Jobs, Programs & Internships
The research director for ARCADIA for Suicide Prevention is partnering with CA-based non-profit Directing Change to hire students.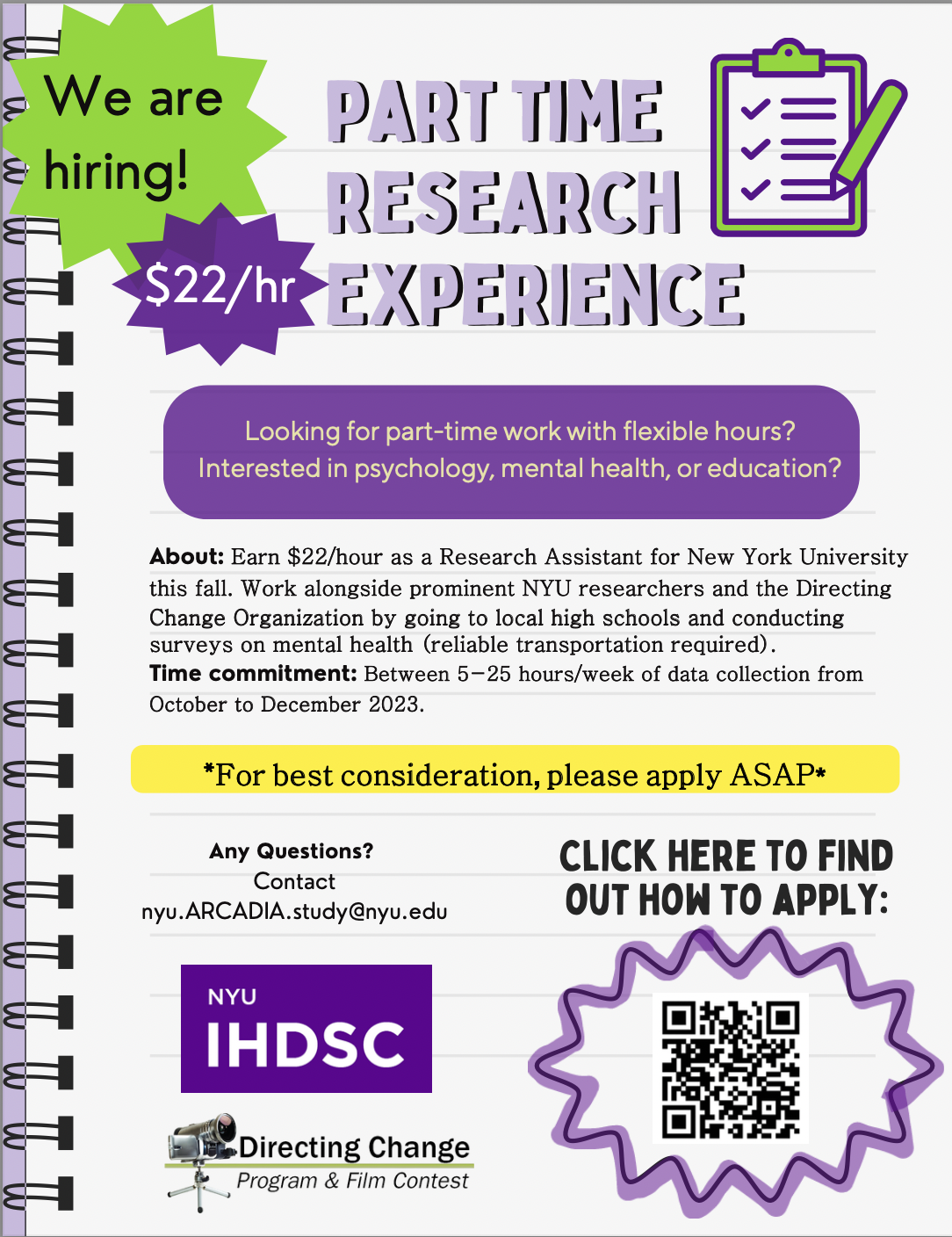 1/3
Anticipated Start Date:   (Mid August, 2024)
DETAILED JOB DESCRIPTION:     
The Department of Psychology at the Rochester Institute of Technology (RIT; www.rit.edu/psychology) invites candidates to apply for a tenure-track Assistant Professor position starting in August 2024.  We are seeking an energetic and enthusiastic psychologist who will serve as an instructor, researcher, and mentor to students in our undergraduate (Psychology, Neuroscience) and graduate programs (Masters in Experimental Psychology, Ph.D. in Cognitive Science). We are particularly looking to build a cohort of faculty who can contribute to the interdisciplinary Ph.D. program in Cognitive Science and contribute to research, mentoring, and teaching using computational and laboratory methods. Candidates should have expertise in an area of Cognitive Science such as cognitive or behavioral neuroscience, AI, computational/psycho-linguistics, cognitive psychology, comparative psychology, or related areas. We are particularly interested in individuals whose area of research expertise expands the current expertise of the faculty. Candidates who can teach courses in natural language processing or computational modeling courses are especially encouraged to apply.  The Department of Psychology at RIT serves a rapidly expanding student population at a technical university. The position requires a strong commitment to teaching and mentoring, active research and publication, and a strong potential to attract external funding. Teaching and research are priorities for faculty at RIT, and all faculty are expected to mentor students through advising, research and in-class experiences. The successful candidate will be able to teach courses in our undergraduate cognitive psychology track (Memory & Attention, Language & Thought, Decision Making, Judgement & Problem Solving), will be expected to teach research methods/statistics courses at the undergraduate and graduate level, and teach and mentor students in our graduate programs. In addition, candidates must be able to do research and work effectively within the department's existing lab space. RIT provides many opportunities for collaborative research across the institute in many diverse disciplines such as AI, Digital Humanities, Human-Centered Computing, and Cybersecurity.
We are seeking individuals who have the ability and interest in contributing to a community committed to student-centeredness; professional development and scholarship; integrity and ethics; respect, diversity and pluralism; innovation and flexibility; and teamwork and collaboration. Select to view links to RIT's core values, honor code, and statement of diversity.
THE COLLEGE/ DEPARTMENT:    
The Department of Psychology at RIT offers B.S., M.S. degrees, Advanced Certificates, minors, immersions, electives, and a new interdisciplinary Ph.D. degree program in Cognitive Science. The B.S. degree provides a general foundation in psychology with specialized training in one of five tracks: biopsychology, clinical psychology, cognitive psychology, social psychology, and developmental psychology.  The M.S. degree is in Experimental Psychology, with an Advanced Certificate offered in Engineering Psychology. We offer accelerated BS/MS programs with AI, Sustainability, and Experimental Psychology. The Ph.D. degree is in Cognitive Science and the program is broadly interdisciplinary with several partner units across the university. We also offer joint B.S. degrees in Human Centered Computing and Neuroscience. 
The College of Liberal Arts is one of nine colleges within Rochester Institute of Technology. The College has over 150 faculty in 13 departments in the arts, humanities and social sciences. The College currently offers fourteen undergraduate degree programs and five Master degrees, serving over 800 students.
THE UNIVERSITY:
Founded in 1829, Rochester Institute of Technology is a diverse and collaborative community of engaged, socially conscious, and intellectually curious minds. Through creativity and innovation, and an intentional blending of technology, the arts and design, we provide exceptional individuals with a wide range of academic opportunities, including a leading research program and an internationally recognized education for deaf and hard-of-hearing students. Beyond our main campus in Rochester, New York, RIT has international campuses in China, Croatia, Dubai, and Kosovo. And with more than 19,000 students and more than 125,000 graduates from all 50 states and over 100 nations, RIT is driving progress in industries and communities around the world. Find out more at www.rit.edu . 
REQUIRED MINIMUM QUALIFICATIONS:
Have PhD., or PhD. expected by July 1, 2024 in cognitive psychology or cognitive science related specialty (e.g. linguistics);
Have demonstrated ability to conduct independent research in psychology or closely related fields;
Have consistently and recently published;
Have demonstrated teaching ability and have taught college courses independently beyond TA;
Have demonstrated ability to supervise student research;
Demonstrate external research grant attainment potential;
Demonstrate expertise in research and teaching in cognitive science;
Show a career trajectory that emphasizes a balance between teaching and research;
Show a fit with the Department of Psychology's general mission, teaching, research, and resources.
Ability to contribute in meaningful ways to the college's continuing commitment to cultural diversity, pluralism, and individual differences.
HOW TO APPLY:
Apply online at http://careers.rit.edu/faculty; search openings, then Keyword Search 8262BR. Please submit your application, curriculum vitae, cover letter addressing the listed qualifications and upload the following attachments: 
A brief teaching philosophy
A research statement that includes information about previous grant work, the potential for future grants, and information about one-on-one supervision of student research
The names, addresses and phone numbers for three references

 
You can contact the chair of the search committee, Caroline DeLong, Ph.D. with questions on the position at: cmdgsh@rit.edu.
Review of applications will begin October 1, 2023 and will continue until an acceptable candidate is found.
2/3
Faculty position in Perception in the Department of Psychology at the University of Wisconsin-Madison
The highly ranked Department of Psychology is seeking excellent candidates for one tenure-track, or tenured, faculty position in the area of Perception. The selected candidate will mount a vigorous research program while making significant contributions to the department's teaching mission. The area of research within the broad domain of perception is open. A successful candidate may be studying any sensory system(s), using any one or more methods (behavioral/psychophysics, computation, neuroimaging, etc.), in any population. Questions related to perception, however, should be at the core of the candidate's research program. The successful candidate will contribute to an inclusive, fair, and equitable environment that fosters engagement and a sense of belonging for faculty, staff, students and members of the broader community. Our department is enhanced by members' diverse approaches, perspectives, and life experiences; applicants are encouraged to highlight these features in their application materials.
Responsibilities:
Successful applicants will teach graduate and undergraduate classes, mentor students, conduct scholarly research, and provide service to the department, college, university, and academic community nationally or internationally. The general teaching load is 2-3 courses per year. The successful candidate, as a member of the College of L&S, will proactively contribute to, support, and advance the college's commitment to diversity among all aspects of their teaching, research, and service.
Institutional Statement on Diversity:
Diversity is a source of strength, creativity, and innovation for UW-Madison. We value the contributions of each person and respect the profound ways their identity, culture, background, experience, status, abilities, and opinion enrich the university community. We commit ourselves to the pursuit of excellence in teaching, research, outreach, and diversity as inextricably linked goals.
The University of Wisconsin-Madison fulfills its public mission by creating a welcoming and inclusive community for people from every background - people who as students, faculty, and staff serve Wisconsin and the world.
For more information on diversity and inclusion on campus, please visit: Diversity and Inclusion
Education:
Required
PhD
PhD in Psychology or similar by start of appointment is required.
Qualifications:
Candidates should demonstrate evidence of creativity and excellence in teaching and scholarly research. In addition, the successful candidate will demonstrate experience with fostering or the ability to foster an inclusive and equity-centered teaching, learning, departmental, and research environment where all can thrive.
Work Type:
Full Time: 100%
This position may require some work to be performed in-person, onsite, at a designated campus work location. Some work may be performed remotely, at an offsite, non-campus work location.
Appointment Type, Duration:
Ongoing/Renewable
Anticipated Begin Date:
AUGUST 19, 2024
Salary:
Negotiable
ACADEMIC (9 months)
Additional Information:
Madison is the state's capital city and is well known for offering a small town feel in a medium-sized city. It is a great place to raise a family and offers an ideal combination of natural beauty, stimulating cultural events, outstanding schools and outdoor recreation.
The Department of Psychology at UW-Madison is highly rated and is a leader in its field. The department is multidisciplinary and has a highly collaborative environment. We are committed to diversity, equity, and inclusion in all aspects of our research, teaching and service, including hiring and graduate admissions (
https://psych.wisc.edu/diversity-home/
).
In addition, the College of Letters & Science is committed to creating an inclusive environment in which all of us - students, staff, and faculty - can thrive. Ours is a community in which we all are welcome. Most importantly, we strive to build a community in which all of us feel a great sense of belonging. There is no excellence without diversity in all its forms; diverse teams are more creative and successful than homogeneous ones. We are better when we are diverse and when we acknowledge, celebrate, and honor our diversity. In acknowledging and honoring our diversity, we also assume a responsibility to support and stand up for each other.
How to Apply:
This vacancy is being announced simultaneously with PVL#287123; please note that only one vacancy exists. Having two position vacancy listings allows the Search & Screen Committee to consider candidates in either a tenure or tenure-track position. Applicants for Assistant position will use PVL#287121 (this PVL). Applicants for Associate or Full Professor with tenure should apply using PVL#287123.
To begin the application process, please click on the 'Apply Now' button. Please upload the following items: 1) Cover letter 2) C.V. 3) Research statement 4) Teaching statement, and 5) Three representative publications (please upload all three as one PDF doc). In addition, candidates will be asked to provide contact information for three references. Each reference will each receive an electronic link through which they can upload a signed letter of reference.
The appointment is expected to begin on August 19, 2024. To ensure full consideration, applications must be received by October 17, 2023.
Employment will require an institutional reference check regarding any misconduct. To be considered, applicants must upload a signed 'Authorization to Release Information' form as part of the application. The authorization form and a definition of 'misconduct' can be found here:
https://hr.wisc.edu/institutional-reference-check/
3/3
Cognition and Cognitive Neuroscience Program 
Department of Psychological and Brain Sciences 
University of Massachusetts, Amherst 
The Department of Psychological and Brain Sciences at the University of Massachusetts, Amherst (http://www.umass.edu/pbs/) is inviting applications for a tenure track, academic year, faculty position at the Assistant Professor level in its Cognition and Cognitive Neuroscience Psychology program, starting in Fall 2024. 
We are seeking outstanding applicants with expertise in any area of cognitive psychology or cognitive neuroscience, including interdisciplinary fields connected to cognitive psychology, whose work complements and broadens existing strengths in our program. 
We are known for interdisciplinary and cross-area collaborations and innovation. The program has current strengths in attention, decision-making, psycholinguistics, and mathematical modeling, with connections to our Behavioral Neuroscience, Clinical Psychology, Developmental Science, and Social Psychology programs. Across the university, our faculty have strong connections to Linguistics, Information and Computer Sciences, and Speech, Language, and Hearing Sciences, as well as the Initiative in Cognitive Science, the Computational and Social Science Institute, the Institute for Diversity Sciences, and the Institute for Applied Life Sciences.
The Department is interested in candidates who have demonstrated the ability to contribute to the inclusive excellence and diversity mission of the department, college, and university in research, teaching, and/or outreach.
- Applicants must have a Ph.D. in Cognitive Psychology or a closely related field at the time of appointment.
- A developing record of demonstrated excellence in research consistent with an early career stage.
- Strong methodological skills and a theoretically-based research program.
- Demonstrated ability or s
trong promise of
extramural
funding.
- A strong commitment to undergraduate education, graduate training and mentoring, and diversity and inclusion.
UMass Amherst, the Commonwealth's flagship campus, is a nationally ranked public research university offering a full range of undergraduate, graduate and professional degrees. The University sits on nearly 1,450-acres in the scenic Pioneer Valley of Western Massachusetts and offers a rich cultural environment in a bucolic setting close to major urban centers. In addition, the University is part of the Five Colleges (including Amherst College, Hampshire College, Mount Holyoke College, and Smith College), which adds to the intellectual energy of the region.
Along with the application, please submit a cover letter, curriculum vitae, statement of research interests, statement of teaching philosophy, statement of contributions and future plans to diversity, equity and inclusion (see below), samples of representative research papers, and contact information for three (3) professional references. We will begin to review applications on October 1, 2023, and will continue to accept applications until the position is filled.  Please submit materials online to:
http://careers.massachusetts.edu/cw/en-us/job/520191?lApplicationSubSourceID=
 As part of our commitment to supporting our multicultural community, we seek an individual with a demonstrated commitment to diversity and one who will understand and embrace university initiatives and aspirations. The statement of contributions to diversity, equity, and inclusion should identify past experiences and future goals. These contributions may result from lived experiences, scholarships, and/or mentoring, teaching, and outreach activities. (
https://www.cns.umass.edu/diversity-equity-inclusion
) 
The University is committed to active recruitment of a diverse faculty and student body. The University of Massachusetts is an Affirmative Action/Equal Opportunity Employer of women, minorities, protected veterans, and individuals with disabilities and encourages applications from these and other protected group members. Because broad diversity is essential to an inclusive climate and critical to the University's goals of achieving excellence in all areas, we will holistically assess the many qualifications of each applicant and favorably consider an individual's record working with students and colleagues with broadly diverse perspectives, experiences, and backgrounds in educational, research or other work activities.  We will also favorably consider experience overcoming or helping others overcome barriers to an academic career and degree. 
Triton Testing Ctr is hiring Proctors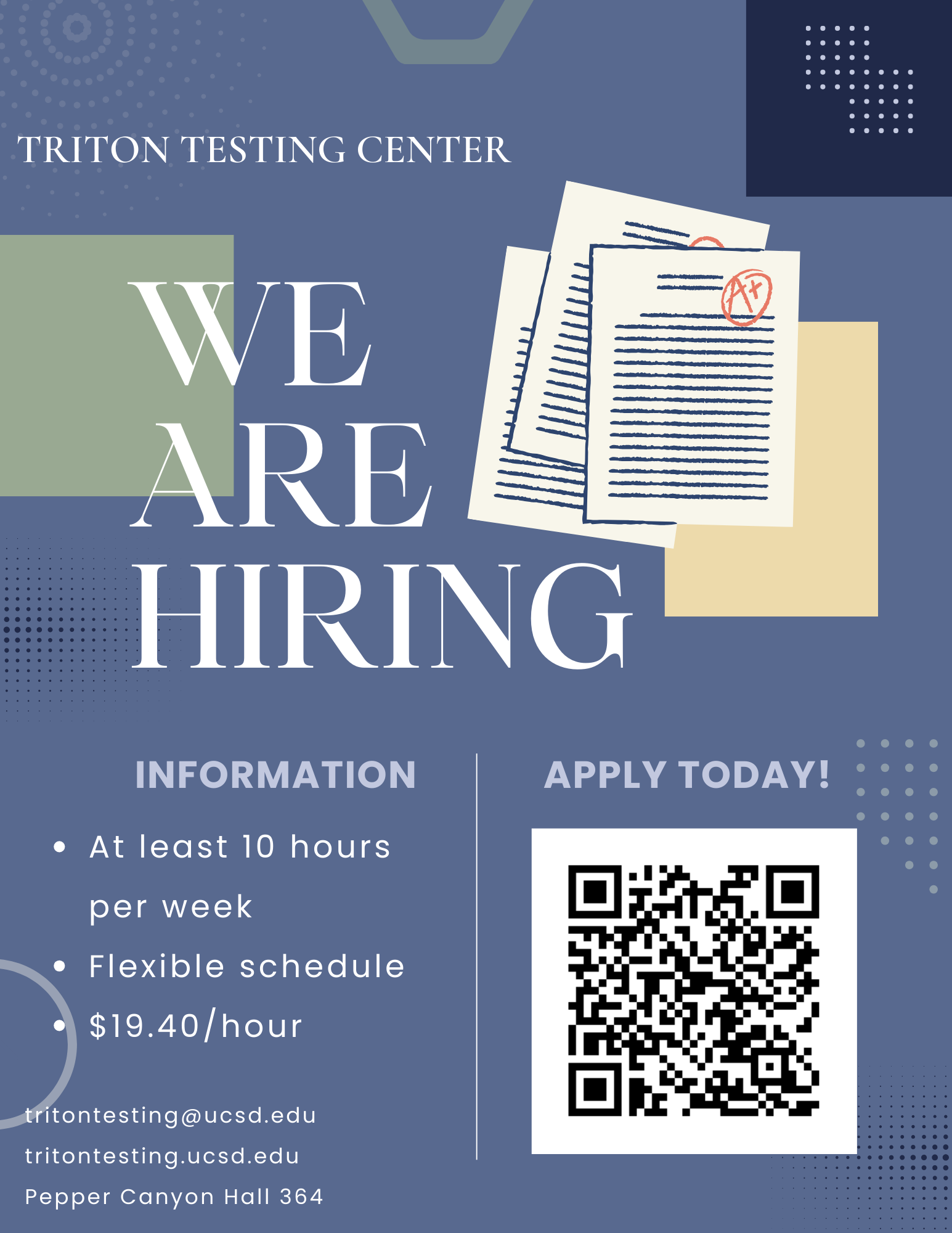 Note this is not an internship.  Acceptance is competitive.  Please pay attention to the application and pre-requisites
Mapping Thought to Action:
Brain Machine Interface Workshop & Hackathon for Undergraduates

September 26-27, 2023
HDSI Building & Franklin Antonio Hall, UC San Diego
Data Science & Machine Learning for Neurotechnology: Getting Started as an Undergraduate
Topics include: the neuroscience behind BMIs, neural decoding algorithms, career opportunities and development, peer review and research dissemination practices.
Pre-requisites:
Python basics
Working knowledge of linear
algebra & probability
Experience playing with Jupyter
notebooks or Google Colab
Familiarity with numpy, scipy,
and matplot libraries
Undergrads, including those who belong to groups underrepresented in STEM, are encouraged to apply, including but not limited to people of all racial, ethnic, geographic, and socioeconomic backgrounds, sexual orientations, genders, and persons with disabilities.
learn more @ https://thinkneuro.org/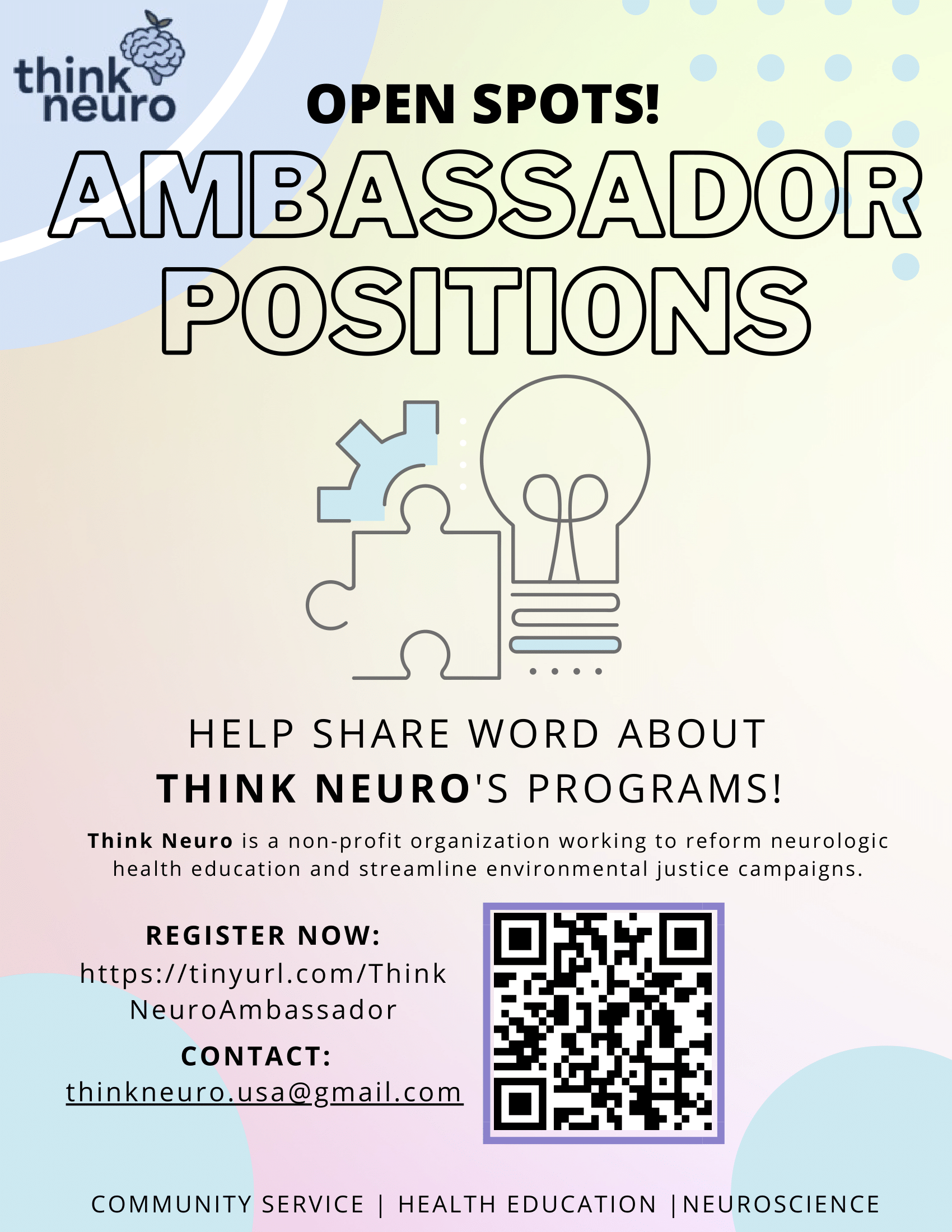 Community Resource Center
has Data Specialist internship openings: Summer and Fall.
Interested applicants can send resume to hr@crcncc.org
Passionate about the outdoors, geography, community engagement, public lands, cultural and natural resources?
Paid internships especially for those of latinx identity
Learn more about MANO
Apply here
We provide ABA therapy services for children with Autism Spectrum Disorder and need at least 30 Behavior Technicians (BTs) to work in the San Diego Metro area.  There are so many children being diagnosed with ASD that we cannot keep up with the demand for services.  This is for ABA therapy as a whole across the country, not just for us.

Pay ranges between $18 - $30 per hour.

15 - 35 hours a week (flexible).
Having a degree or being close to earning one is preferable, but is not an issue with the right experience in ABA or a related field.
Training is provided along with continuing education.
We will pay for their registration after 90 days, if they want to earn it.
We can start the right candidate within a few days, in most cases

We also have a need for Board Certified Behavior Analysts, but that position requires a Masters Degree.